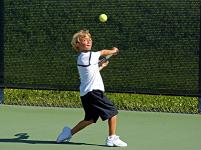 Mini Tennis Green is the final stage in the mini tennis structure. Players move onto Mini Green coaching at the age of 10.
At this stage they will use:
25-26 inch rackets
mini green tennis balls which are bouncier and quicker than orange balls but still softer than the full yellow tennis ball.
a full singles tennis court.
Throughout the mini structure, the plyers skill and passion for tennis will have increased a great deal, therefore there will be an option to progress to the Activeace Academy or other full tennis groups according to their rate of improvement and their age.